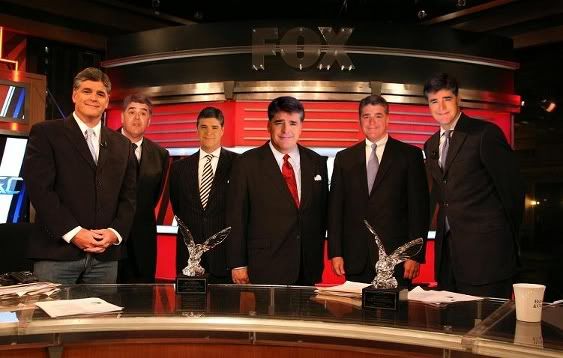 The right-wing has had problems with the truth lately (maybe longer).
Caffeinated Politics has Jon Stewart busting Hannity's use of footage from a 9/12 rally to embellish attendance at last weeks D.C. tea party. Also, Rep. Bachmann gave an estimate of 20,000-45,000 in attendance at the rally, whereas the Washington Post reported 10,000.
At Blogging Blue, Zach takes a conservative blogger to task for fuzzy math regarding Scott Walker's primary opponent, Mark Neumann. The blogger seems to think he can declare Neumann a "career politician," even though Walker has spent much more time in politics, based on Neumann's voting record, not tenure of service.
The Week in Review on Wisconsin Public Radio had Chris Lato, a former communication director for the Republican Party of Wisconsin as the conservative guest Friday. While debating the health care bill passed by the House, Mr. Lato claimed the bill would cost America one trillion dollars. The CBO has produced plenty of evidence that HR 3962 will save the government money, but Lato outright refuses to accept that judgment (audio available here, program date Nov 13 2009, 8:00 am).
Rep. Paul Ryan is invoking the same "trillion dollar" price tag, conveniently ignoring the CBO estimates. I cannot condemn the behavior completely, Ryan and Lato have the right to question the government. However, this "trillion dollars" is an unfounded assertion. Neither presented any evidence to back up their claim.
Illusory Tenant has a take on Wisconsin Supreme Court Justice Michael Gabelman's constitutional right to lie in campaign ads. It reminds me of a case my current Assembly representative's campaign lost right before the election last year. An appeals court found that while a radio ad indeed made false claims, a trial court order preventing the airing of said ad "represents a constitutionally impermissible prior restraint on political speech."
Meanwhile, Rep. Stupak argues his amendment to the health care bill merely reaffirms the status quo on federal abortion funding. That's not true, though Stupak refuses to admit it.
——————————-
Thanks to Tim for the shopjob. Anyone want to do some CSS for me? I need some more flexibility/bigger images.